Broccoli is a veggie that most people love to hate.  I think kids hate broccoli because they seeming;y are supposed to. Well here are some ideas to hopefully change that.
Roasted Broccoli
Just a little oil and your favorite spices, toss on some parchment paper and roast away!
This beautiful picture is from A Spicy Perspective Blog
Broccoli Crust Pizza (Low-carb, Gluten free)
This one would be so fun for Halloween or St. Patty's Day.
Ingredients
Broccoli Crust:
1 small head of broccoli (about 2-3 cups riced)

2 eggs
¼ cup parmesan cheese
¼ cup mozzarella cheese
¼ teaspoon salt
¼ teaspoon pepper
½ teaspoon italian seasoning (optional)
Toppings
¼ cup pizza sauce
1 cup cheese
veggies (optional)
Instructions
Pre-heat oven to 400 degrees F. Line a baking sheet with parchment paper (highly recommend) or grease with oil; set aside.
Process the broccoli in a food processor or shred with a cheese grater until the broccoli is the same consistency as rice.
Place broccoli in a large bowl, cover with plastic wrap and micorwave for 1-2 minute or until it is steamed. Cool for at least one minute then pour broccoli on a clean washcloth and squeeze as much liquid as you can out of the broccoli until you are left with a dry ball of broccoli.
In a large bowl, combine the broccoli, eggs, cheeses, and seasoning with a spoon until fully combined. Pour mixture into the pre-lined baking sheet and shape into a pizza crust, ½ inch thick.Bake for 10-12 minutes or until crust is lightly browned. Remove from the oven and add the pizza sauce and cheese. At this point feel free to add desired toppings (veggies or meat). Return to the oven and bake for an additional 10-12 minutes or until the cheese is fully melted. Cool for at least 5 minutes before cutting.
This Recipe and Pic is from Gimme Delicious
How about a new way to cook Broccoli and Cheese?
Broccoli and Cheddar Quinoa Bites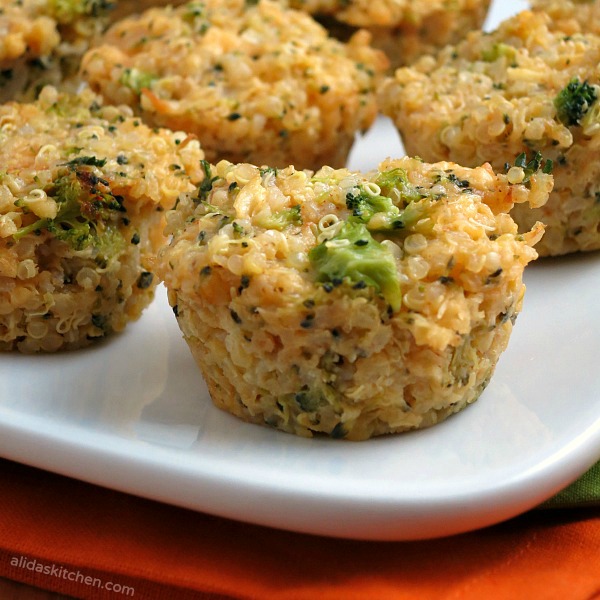 Ingredients
¾ cup uncooked quinoa, rinsed
1½ cups vegetable broth or water (for cooking quinoa)
2 eggs, lightly beaten
2 cups broccoli florets, finely diced
1 cup yellow onion, finely diced
1 garlic clove, finely minced
1½ cups shredded cheddar cheese
½ teaspoon paprika
Crushed red pepper (optional) to taste
Instructions
1. In a medium sauce pan, combine quinoa and water (or broth) and cook according to package directions. Let cool.
2. In a large bowl, combine cooled quinoa, eggs, broccoli, onion, garlic, cheese and paprika.
3. Preheat oven to 350° F. Spray mini­muffin tins with cooking spray.
4. Put a heaping tablespoonful of quinoa mixture into prepared muffin cups. Bake for 15 to 20 minutes, or until edges turn golden brown. Remove from oven and let cool for 5 minutes and then gently remove from pan to cool completely.
This recipe and pic is from Alidas Kitchen.
Hopefully this gives you some new ideas to enjoy the broccoli that you have been receiving.
Happy Healthy Eating
Lindsay