Since giving up grains almost 2 years ago I have found that my love of noodles has not gone away.  The great thing is that you can make "noodles" out of many of our favorite veggies.  My favorite noodles by far are sweet potato noodles.  While I spiralize them, I heat up 2-3 tablespoons of olive oil in my wok.  Once it is sizzling hot I drop the noodles in a sautee them. I found there to be a little bit of a learning curve on timing these noodles.  It took me 3-4 times to figure it out.  So here's the short cut…..either pop them in the microwave for a couple of minutes before you put them in the wok…or….put a lid on the wok while they cook.  The steam will help them to soften and cook them faster. Butternut squash also spiralizer nicely.  It has about the same flavor as sweet potato but it actually cooks a little quicker.
Another favorite "noodle from the ground" is spaghetti squash.  Since I have one of these that came from the farm this week I thought I'd share a recipe or two that I plan on trying.
One is Spaghetti Squash Chow Main.
The blog I found it on actually has a step by step video recipe.  So hope over to Littlebitsof.com
and check it out.
The other is Spaghetti Squash Jambalaya.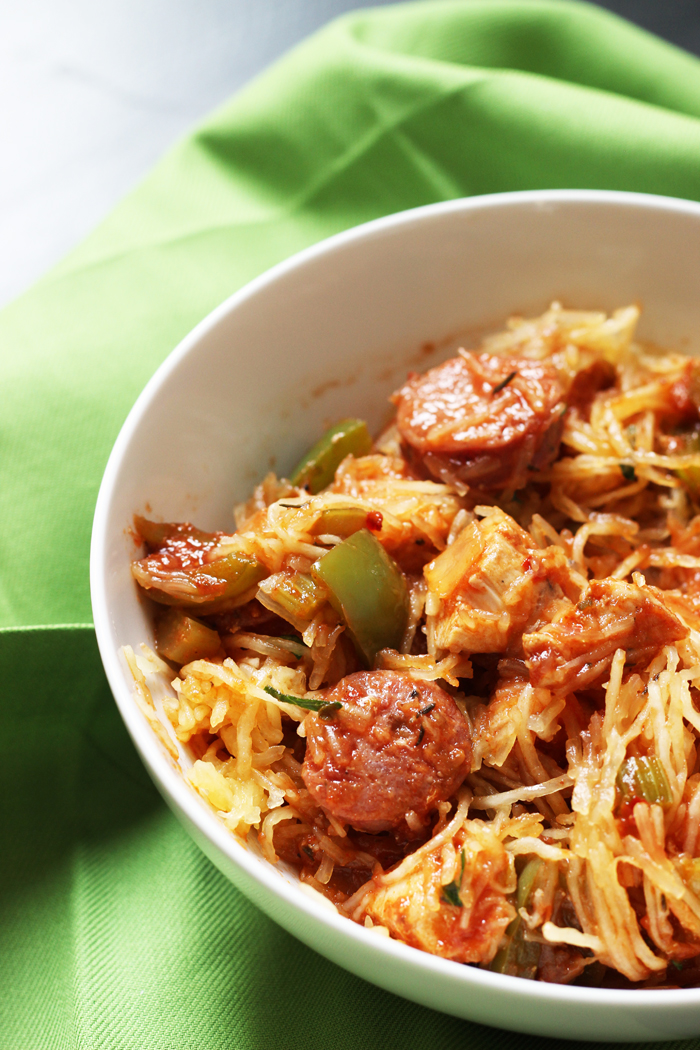 I found it on Goodcheapeats.com
I have found that it really depends on what I am using my spaghetti squash for to determine the cooking time.  I tend to like my noodles a little softer than the rest of my family. So inevitably I dish their meal and then microwave mine to get it to the tenderness I like.
The moral of all of these stories and recipes is….you don't need noodles from a box when you can get noodles from the ground.
Happy healthy eating!!
Lindsay